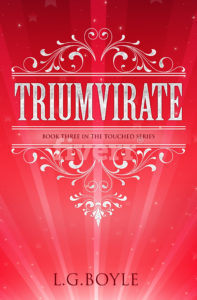 I feel blessed beyond measure to be a featured author (again) at Holiday on the Farm Artisan & Craft Market. Author LG Boyle will be on the scene with copies of Touched, Immaculate AND (God willing) a special preview of book three: Triumvirate! I may even have advance copies available – YAY! I hope to see you there. I've included the details below:
7626 Ashley Rd, Yorkville, IL 60560-9741
Saturday, September 30th, 10 AM – 4 PM
Admission: $5 per car
Meanwhile, enjoy this synopsis of TRIUMVIRATE!
Three young children, Mal, Ari and Martha, have been "touched" and are in possession of enormous talents, bestowed on them by a chance encounter with the Young Master. Now Ari, Mal and Martha find themselves in the wrong place and time because Ari has done the unthinkable, resulting in a perpetual red dawn. But that is the least of their worries! Ari is on the run, while Mal and Martha attempt to keep their enemy at bay. The Strange Man is back and he's got even more sinister tricks up his sleeve …