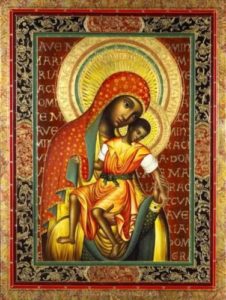 "M is for the million things she gave me …" MOTHER, T Morse & H Johnson
And the third day there was a marriage in Cana of Galilee; and the mother of Jesus was there: And both Jesus was called, and his disciples, to the marriage. And when they wanted wine, the mother of Jesus saith unto him, They have no wine. Jesus saith unto her, Woman, what have I to do with thee? mine hour is not yet come. His mother saith unto the servants, Whatsoever he saith unto you, do it. (John 2:1-5 KJV)
Thus began Jesus' ministry of miracles, the very first being issued (prematurely) because of his mom. The things we do at our mothers' insistence are innumerable. What lengths would we go to, what would we not do for them? Even Jesus bowed under the weight of that obligation, we see. He is the son of God, but also of man. Therefore, he was obedient to Mary in the same way we are commanded to honor our mothers and fathers. Okay, Mom. I made more wine, see? LOL!
Jesus, I believe, had a special bond with mothers. Show him a mom in distress and he was moved to action. Consider the story where Jesus came upon a funeral bier, that of a woman about to lay her son to rest. She must have been bereft, inconsolable. Her husband had died previously and now her only son, her only means of support, was gone also. What would she do? How could she provide for herself? Not to mention, she had lost her son, her light, her future and the very thing that made her a mother. She had lost her identity. So Jesus, seeing her in mourning, was moved to compassion. He raised her son from the dead and restored both of their lives. Her fortune and future were now more secure. She had her son back.
Nothing could move Jesus like a mother, I think. No other feeling on earth is so closely patterned after his love for us. He lamented the state of Jerusalem and said he often wanted to gather them under his wings as a hen gathers her chicks (Matthew 23:37). This is the very picture of motherly love and protection. His relationship with his mother was that of any man, I feel. He was so concerned with her well being after his time here on earth was over, that he gave her his beloved disciple, John, in his stead. Woman, behold thy son! (John 19:26) In other words, try not to miss me so much, Mom. John will be here to comfort you. But more importantly, just as in the case of the woman in the funeral procession, he gave her a live son. He left a comforter in his place. It is no wonder to me that Jesus so easily acquiesced to Mary's request. It speaks to their relationship and how he felt about her.
With this upcoming Mother's Day, I'm ruminating on some of the things that make me who I am, mother and daughter. I remember the things my MaDear has done for me. Her love has no limits. And because I am a mother, too, I now know how that feels. As her daughter, I know what it is to be moved to do something, even though objecting, but still doing it because she asked. Did I ever create a miracle for her? I suppose I must have because my own children have done so for me many times, unknowingly. I recall the first Mother's Day my children honored me. They were so small but old enough to talk. My son and daughter were led to the front of the church, the microphone put before them and coaxed to say: Happy Mother's Day! Tears streamed down my face in surprise. For some reason, it wasn't real until that moment. I was overcome for some time after that. A man remarked to me later, "That was the first time you realized it was about you!" Exactly. I was a mother. I was the revered one. Wow. That still floors me.
I also remember the day my brother taught us to love and honor our mother. He took us to a store that was filled with glass things. My eyes were wide as he showed us the gift he'd picked out for MaDear. It was a glass punch bowl with little cups that hung over the sides. You know the one, LOL! But we'd never seen something so beautiful. It was worthy of our mother. We were excited as she opened it because it was from US. My brother had been gracious enough to include his siblings and I also think he felt it would be worth even more to our mom to think it was from her small ones, too. For me, giving our mother that gift was the very best feeling. In giving to her, we gave to ourselves that moment of knowing we had pleased her. She got many years out of that gift set. Each time she brought it out to entertain, I remembered where she'd gotten it from. And so it continues to this present day. We're so glad to still have her here with us and we continue to honor her. This upcoming Mother's Day she is blessed to have it fall on her 90th birthday. We are beyond thrilled to celebrate this momentous occasion, this great coming of age with her. So Happy Birthday MaDear and Happy Mother's Day to all. May heaven celebrate with us.
Be blessed,
Loria