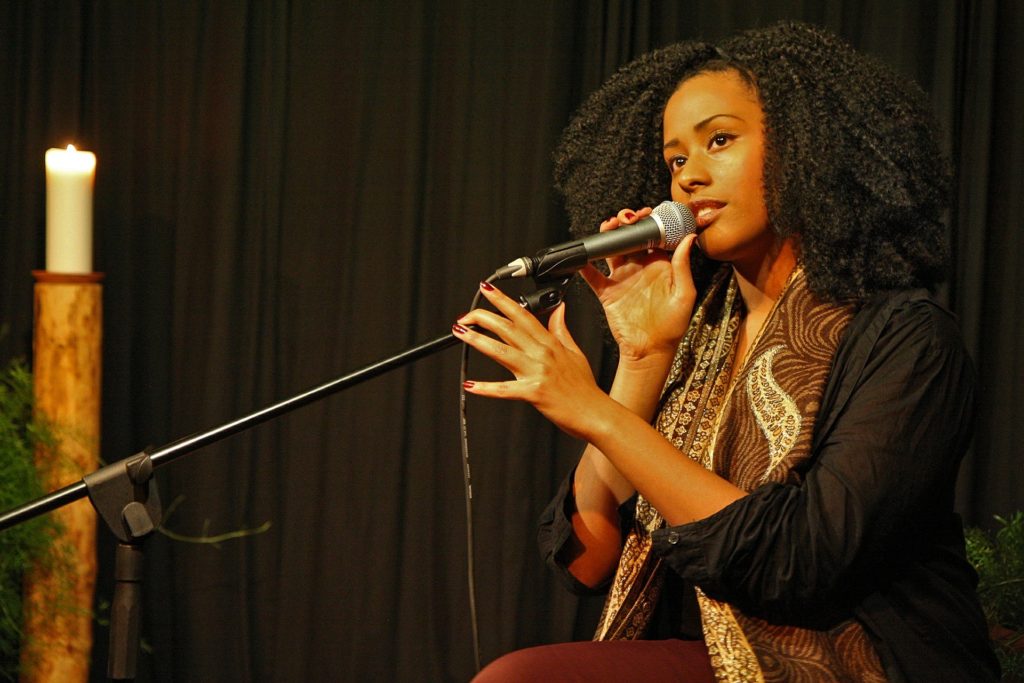 "His wings are clipped, and his feet are tied, so he opens his throat to sing." Excerpt from Maya Angelou's poem, I Know Why the Caged Bird Sings.
"You sing?"
From time to time, I get asked this question. It's usually voiced by someone who doesn't know me or has never worked near me. To their query, I just shrug. Meh. Yeah, I sing. Most folks have found that I always sing, even when I don't realize it. I sing as I work and as I play. I may even do so when things aren't going well, to forcibly inject some gaiety into my day. I'm known for humming tunes in the middle of meetings and at the beginning of my workday. (I even occasionally whistle, though I don't have a talent for that, to my lasting regret!) Singing is my way of announcing to everyone, Loria is here! Not only have I arrived, but I am focused and ready to work, not just piddle around. It sets the stage for my day and says: I am determined to have a good mindset and be productive. So, singing is kind of what I do, nearly always.
When I was a child, my older brother would call for me. He'd lift me up and set me on a coffee table and have me sing for his friends. Far as I could tell, I put on quite a show back in the day, LOL! But not so much these days. I've been on hard times before, certainly worse presented than my current circumstances but through most of it, I've kept my voice. In fact, I didn't really know anything was wrong until it occurred to me one day: I didn't sing anymore. Nor did I want to. WOW.
Maybe life was heavier than I had allowed myself to believe. Surely, a pandemic of the likes I had never expected to see in my lifetime, riots, shootings, uprisings, and just general mayhem – surely, they can't have worn me down to a nub. (And stop calling me Shirley, ala Airplane!) The lockdown, a year of working from home – something I'd always longed to do but now has lost its luster – and limited access to my favorite leisure activities began to have a negative effect. Not only had depression set in but anxiety, as well. Staying at home turned out to be exhausting. I tired more easily and only the most beautiful and sunny day could coax me outside. Moreover, a year of doing nothing led to more worries over doing more than nothing. Should I be doing this? Is it safe? Previously I thought, if I and my loved ones survived, if we could just weather this storm, everything would be fine. But as Michelle Obama said recently, "none of us will come out of this unchanged." I realized, unsurprisingly, I was not OK.
Music – of the portable variety, meaning, just me and my pipes – has been my constant companion for my whole life. Singing has always given me great joy, often allowing me to transcend my situation. But more than that, it's been somewhat of a temperature gauge. A way of checking in and knowing how I'm doing. Of communicating that mood and passing that joy on to others. If I can sing, things are not so dire that I cannot overcome them. But with my wings clipped and my feet tied, could I find it in me to sing again? Then one day while out doing routine tasks, suddenly and unexpectedly, I found my voice.
I received my first COVID vaccine two weeks ago. Perhaps it was that hope of freedom that loosened my vocal cords. I can potentially see my loved ones, travel, engage in corporate activities, and maybe even one day be unfettered by a mask altogether. It was something, at last, for which to look forward. Winter is gone. Spring has come and life is being renewed. Not just in the plants around us, but in the awakening animals and insects. Better days are ahead. So, I sang of freedom, even though I haven't realized it yet. I sang for the promise of that one day when I would. I sang though I'm still bound as if I were already free. And I found myself lifted, exalted, above the confines of my prison, on the wings of my voice. Wings that have not been clipped after all. Not as long as I can sing.
Be blessed,
Loria
Become a subscriber to download your free copy of Touched and receive updates regarding upcoming releases. Pale Rider will be available for pre-order soon!
Find more great giveaways and featured authors on Story Origin's Easter Treasure Hunt!
If like me, you're a fan of the Fae, you may want to check out Fae Shifters by Madilynn Dale.
And just for funsies, the book cover for Pale Rider has now become a coloring contest! It's open to all ages, amateur and professional. Enter to win the ultimate prize, a FREE download of Pale Rider when it goes live! Go to my homepage and grab your copy. Submit it via email when you're done. It's that simple.
Enjoy!