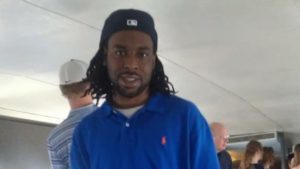 "The Lorax came out of me being angry. In The Lorax I was out to attack what I think are evil things and let the chips fall where they might." Dr. Seuss
I saw the press conference where the fifteen year old son of Alton Sterling broke down. He tried to be there for his mother, as the oldest of five children, while she talked about how Alton was killed by police. Her son hid his face in a corner of his shirt as she spoke on the tragedy but grief soon overwhelmed him. I'm sure he had heard of the deaths of Mike Brown, Sandra Bland, Tamir Rice and others at the hands of law enforcement. He was old enough to know, as the entire black community in every city now realizes, it could happen to any of us, at any given time. But how can you prepare for this tragedy? It makes no sense. Our life expectancy shouldn't be shortened because we are black. But none of us, man nor woman, young or old, are exempt no matter how compliant we are. I'm just as certain Sterling's son thought, as anyone would under similar circumstances: NOT MY FATHER. How did things turn for the worse so quickly? Unbelievable. And inexplicable. It's a sad day in America when this has become the norm, the killing of black citizens for routine infractions. It was an unjustifiable violent act against an unarmed man. A sad day, not just for blacks, but for every American.
Lately, I've been recalling to mind a novel by Stephenie Meyer, The Host. I enjoyed it although it didn't reach the same level of fame as its predecessor, Twilight. The premise was one we've heard before – aliens come to earth and inhabit our bodies. It was regarded as a hostile takeover by humans but as one much needed by an alien race with superior technology. Because they were peaceful, they viewed our society as barbaric. They watched us for a while in secrecy and viewed our news reports. They saw all the evil that men do. These glowing, caterpillar-like creatures were inserted into the minds of humans and changed their behavior. The alien race did away with crime, poverty and sickness. As Wanda, the host, explained, "We make life better." They were saving us and our planet from us. We were the villains.
I can't help but agree with the assessment of Wanda's alien race on our society. Looking at our news reports is enough to make us see the need for change. We need a takeover. And though I can be a Pollyanna and choose to live optimistically, my hopes do not lie in us ever getting it together. The Bible tells us a Utopian existence can only be ushered in upon Jesus' return. I wait and hope for that day but live in the here and now. What about THIS day? People say: We need to do more than pray! And that is true. Actions are in order. But let us not forget that prayer is our most effective weapon against evil. When the folks who are in authority misuse their power, it is the epitome of the spiritual wickedness that sits in high places. It is for this reason that our weapons of warfare cannot only be those we can see (Ephesians 6:12).
This morning I cried as I learned of the death of yet another, Philando Castile, at the hands of police. I'm angry, frustrated, fed up and tired of all three. Lots of folks on social media are silent. Speechless, I think, because we cannot comprehend the horror. We don't watch the video because we don't wanna know. We don't want to cry or have sympathy for the victim because that destroys our illusion of safety via compliance. The idea that someone could deserve such a fate is ludicrous. The truth is, it can happen to anyone – black or white – and it has. There are those who like to interject: What about black on black crime? As if that could be an excuse for reprehensible behavior on the part of police. What about white on white crime? Asian on Asian? Latino? LGBT? So what? One has nothing to do with the other. Shame on those who jump to defend the perpetrators with such an argument without sparing one moment of sympathy for a life taken senselessly and so soon. But even had you cried, it would have changed nothing. But you might have been stirred to action. So let us be done with our tears and victim blaming and find a solution to this problem.
Years ago, I stood in a grocery line that was only slightly backed up and watched as the cashier gave the elderly lady in front of her hell for going over the limit and for using food stamps. Because it was a cash only line, the cashier claimed that food stamps were not cash. She was about as disrespectful to the old lady as you could be without cursing. I looked at the motherly woman and saw my own Madear and thought: She better not try that with me! And all the things I would do and say to her. When it was my turn, she proved just as belligerent to me. Of course, I told her off and called her manager to report her. He merely agreed with me, said she had been reprimanded in the past but he would talk to her again. Too late, I saw that instead of waiting for my chance to stand against her alone, I should have stood up for the old lady and then it would have been BOTH of us against her. That would have been quite a ruckus. Too many times we wait until it is time to defend our own. We walk away because we don't want to get involved. But there is strength in numbers.
Repeatedly, the Bible urges us to "watch and pray." The time has passed for praying only. When you see that there is a problem, instead of saying: "Someone should do something about that," know that God has called you. Esther could have stayed comfortable in the palace and watched as her people were killed, but her Uncle Mordecai urged her to identify with the Jewish population and speak up. She fasted and prayed, then she acted. And we should watch for those opportunities to say something, putting ourselves in the shoes of those of us who are being persecuted instead of distancing ourselves. We think if we are not like them, we are safe. But this last gentleman who was killed was just a regular guy. The time has come for us to not continue to turn blind eyes and deaf ears to the problem just because it makes us uncomfortable. People are dying. In America.
Oh Lord, that you would come in and inhabit us with your spirit so that we can no longer commit vile acts against each other, being neither the recipient, nor the perpetrator. Let those who are guilty receive their just recompense. Reward them according to their deeds for only you know their hearts. Teach us to pray, give us the words to say to move you on our behalf. But you already have: Thy kingdom come, thy will be done on earth, as it is in heaven. This is your model for prayer. And if it weren't possible to have your will be done in this life, I don't think you would have included that line in your example. So we will pray until YOUR will is accomplished. I don't believe what we're living is it. I also pray and remember that when the Israelites were oppressed and cried out for deliverance, you answered them time and again. We are your people, too. And you will answer us, for you love justice. A perfect society may be too much to hope for, but you make things better. We all can do better.
"Unless someone like you cares a whole awful lot, nothing is going to get better. It's not," The Lorax.
Be blessed,
Loria