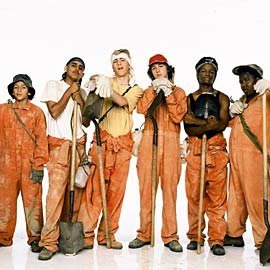 A farmer went out to sow his seed. As he was scattering the seed, some fell along the path, and the birds came and ate it up… Still other seed fell on good soil, where it produced a crop—a hundred, sixty or thirty times what was sown. (Matthew 13:3-4, 8)
Some amazing things are happening in my life right now. Immaculate is creating wonderful opportunities and I'm just in awe of God and what He is doing. Coupled with the great things have been some crushing disappointments. Every time I think I have it all sewed up, things seem to come unraveled. It's enough to make me wanna give up. Until I recalled the story of Joseph and it put things in perspective.
You may know the story but I'll briefly recap. Joseph could interpret dreams. His brothers hated him so that he was sold into slavery. But God favored Joseph, who proved so trustworthy that his new master, Potiphar, gave him control over the entire household. Potiphar's wife saw Joseph and lusted after him. She failed in her attempt to seduce him and cried rape. Potiphar (the captain of the guard) sent Joseph to prison – you know, the fancy one where they send politicians. But the favor of God followed him there, too. The jailer put Joseph in charge. One day, seeing the downcast faces of his fellow prisoners, Joseph offered to put his gift to use and help them.
Preparation met opportunity in that both of these fellows worked for Pharaoh. Joseph said to the cup bearer, who would benefit greatest (unlike the baker, who was damned): Remember me! But of course, the cup bearer forgot and Joseph continued to languish in prison for TWO MORE YEARS! I suppose Joseph, being human, wanted to give up when his wrong wasn't righted immediately. He may have become discouraged when the cup bearer didn't immediately spring him free. As the days went by, his hopes likely dwindled and he may have wondered if he would ever be released from prison. Cushy jail or not, it was still jail.
He knew the God of his fathers was faithful. Joseph had been blessed in every circumstance, no matter what tragedy befell him. But this new development had given him hope that his trials would be over soon. And hope is wonderful for lifting your spirits out of despair but also so disheartening when they are not realized. I imagine Joseph, shoulders slumped, drained of all confidence regarding his state. Was he destined to live this life of not quite making it before being snatched back into the pit he dared crawl out of? Was this his life and all there was to it? He may have wondered, why me? Almost, almost, almost but never THERE. His dreams told him a bigger life was in store for him, but his life had yet to catch up with his dreams. He had played his card and lost. He may have been resigned to his fate when suddenly his name was called:
"There he is," the voice of the jailer said, fondness evident in his voice. Joseph was a model prisoner and his personal favorite. A more faithful person, in the jailer's estimation, you couldn't find. How Joseph came to be in this place, the jailer couldn't fathom because the favor of God was clearly upon this young man. Joseph made life easier for him and the jailer trusted him implicitly. Had there been such a thing as early release due to good behavior or based on rehabilitation, the jailer may have done it, so highly did he esteem Joseph. Joseph looked up as his name was called, his expression dispirited, too hangdog to be expectant. Then he saw the Pharaoh's men standing in the entrance lit by torches they carried. The lateness of the hour proclaimed the important nature of their visit. Wordlessly, Joseph jumped to his feet as the men opened the door to his cell. They did not grab him roughly but, instead treated him as a dignitary of some stature.
"Pharaoh desires your presence," the lead soldier announced. Too overwhelmed to be overjoyed, Joseph acquiesced and soon found himself ushered before the leader of all of Egypt. The Pharaoh had been having trouble sleeping due to a recurring nightmare, Joseph had already been informed by the cupbearer, who met with him upon arrival. The cupbearer apologized for the delay but explained he only then remembered (or perhaps, he hadn't wanted to remind Pharaoh of his offense).
"God will give you a favorable answer," Joseph said to the Pharaoh and gave the meaning of the dream. It was a warning to the leader that famine was coming soon but during the years preceding there would be plenty. Joseph suggested, being a man used to overseeing the needs of a household and prison, that Pharaoh store up the plenty against the time of famine. Pharaoh thought it such a wonderful idea that he put Joseph in charge of implementing the plan. Now, the boy who was ousted from his father's house, betrayed by his own brethren and sold into slavery was the vice-president, so to speak, of Egypt!
Today I feel like Joseph and so should you. One day all that we've gone through will make sense. It's preparing us for a bigger day. The vision is for an appointed time – though it tarries, it will not lie (Habakkuk 2:3). Joseph dreamed he'd be bigger than anyone in his family but it didn't happen for many years. During that time many bad things may have happened that told him his vision was a lie, but Joseph continued to sow seed towards the person he would become. Every honorable act, from taking care of Potiphar's household to spurning his wife, being a trusted and valued prisoner for the Jailer, and even interpreting troubling dreams for his friends was seed. And one day it would bear fruit. Believing God in the face of what his situation looked like or despite how he felt must have been challenging. But one day he looked back and realized it was God preparing him so that he could be equal to the opportunity. He was able to say to his brothers, then reconciled, "You meant it for evil but God meant it for good."
Lately, it seems that life events have swung back and forth, like a pendulum, from one extreme to another. But I know the vision God gave me; even though it is delayed, I will wait for it. And I'll keep preparing for the person God wants me to be, for it is surely coming! Until then I'll be digging holes and scattering seed, waiting for my harvest. Lord, help me to be equal to the opportunity when it arrives.
Be blessed,
Loria