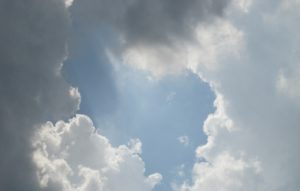 So they took away the stone. Then Jesus looked up and said, "Father, I thank you that you have heard me." John 11:41
I sat in church on Sunday and listened as the pastor expounded on his topic. See, this is the Year of Jubilee in Jerusalem, according to the pastor. Every seven years God granted the Israelites a get out of jail free card, so to speak. It was a time when every man was forgiven his debt and regained his freedom if he were enslaved. He could start over fresh. (Our bankruptcy laws seem to follow this pattern.) After seven cycles of these periods of forgiveness, the Year of Jubilee was proclaimed and the Israelites were assured of additional blessings, i.e., given back property that he'd mortgaged, for example. So the pastor had a list of seven blessings that he determined were also a result of Jubilee: Presence of God, double portion, family blessings, miracles, financial abundance, restored relationships and an open heaven.
My mind fixated on that last one, considering the possibilities. I got excited the more I thought about it. I mean, I really bought into it. I believed it meant I could pray and have God's ear always and therefore, was more likely to have my request granted. Every blessing listed could be mine, similar to how Solomon asked for wisdom and received wealth and peace, as well. The concept seemed to me a wonderful catchall. It covered everything. It was like getting a surprise bonus, a twofer, a bogo. (You should have seen me the other night when my brother got my frozen yogurt free with his purchase at my favorite shop, LOL!) I latched on to the idea eagerly. The pastor said, "Point to your blessing and call it out!" (The words were displayed prominently around the walls of the sanctuary.) Obediently, I pointed to An Open Heaven, figuring it would get me the most bang for my buck! I receive it, I cried aloud with the rest of the congregation.
But my mind said, "Hey! Wait a minute!" The entire premise is predicated on our covenant being the same as the Israelites. But it's actually not. The covenant of Israel can seem appealing (blessed coming and going, in the city and the field, lender not a borrower and all that) but the new covenant is better. The old testament or covenant is contingent on being able to keep the law. If you break one, you are guilty of all. The new covenant, the Bible says, is a better covenant. The blood of Jesus does what the sacrifices of goats and bulls could not do. It saves and cleanses and forgives and restores continually. While we are descendants of Abraham ("And if you be Christ's, then are you Abraham's seed, and heirs according to the promise." Galatians 3:29) because of our faith, we are entitled and can lay claim to the promises made to him.  It's just not limited to a certain time during a specific year.
I realized that Jesus died so that I can have access to heaven every second of every minute of every hour of every day. Twenty-four hours a day, seven days a week, 365 days a year. So in reality, I already have the ear of God, always. He hears me and answers my prayers. I don't need to proclaim a special year to receive that. My former pastor once said of the coming new year, "Every year can't be your year!" Au contraire mon frère! Oh, but it can! Because the veil has been taken away, I have unlimited access to God. I can come boldly, confidently to his throne and make my request as His daughter.
I was elated. If news of one Jubilee year got me excited, a lifetime of being able to claim these blessings made an even bigger impact. Membership has privileges, I thought to myself as I quoted an old commercial. I became bolder in my prayer life and began to believe God for more. And I saw more results. What if, all this time, I was only hindered by my belief or lack thereof? So I began to pray like Jesus and know I have the very ear of God. I no longer wonder now. I know this of a certainty. Thank you Father, that you always hear me. Oh, the blessings in store for us now that we know we have them! I feel I have found a treasure that is secret no longer. And that is good news, indeed!
Be blessed,
Loria