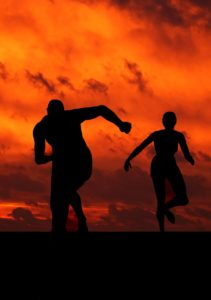 "But seek ye first the kingdom of God, and his righteousness; and all these things shall be added unto you." Matthew 6:33
"I'm chasing after you, no matter what I have to do – 'cause I need you more and more!" Chasing after you, Bishop Paul Morton
I remember hearing Claire Huxtable sing, "Seek ye first," with the Hillman (aka Spelman) choir on the Cosby Show years ago. It was a beautiful rendition – oh, the harmonies! I just loved the song and the message. But to the young girl I was then, the idea of foregoing all the things I wanted to do and pursue was the waste of my opportunity to have a good time. Serving God could get in the way of that. Fun and adventure awaited me, I had my whole life ahead of me. Put God first? To me that meant church, church and more church, LOL! I thought, later for that! You mean I can't live my life, do what I want to do, go where I want to go? I gotta be all holy? Really wasn't trying to hear it.
But as the Bible says, when I was a child, I spake as a child. After having lived half a century on this here earth, I've learned a thing or two. One, that I put all of that energy into doing what I wanted to do first and it got me nowhere. I didn't do it God's way. Two, that chasing church is not the same as chasing God. You can attend church several days a week and give all your money in the offering plate, but it won't get you closer to God. Only time spent with Him, in the Word, and trusting and relying on Him, building that relationship will do that.
Until recently, I was still unable to fully embrace the concept of going after God, not the things of this world, and trusting him to provide and grant me the desires of my heart in the process. God is spoon feeding the revelation to me, only as much as I can handle, before moving on to the next lesson He has for me. He's building it line upon line, precept upon precept. After An Open Heaven revealed that we have access to God, ALWAYS, it occurred to me that there was a responsibility now on me. Not so much to do more, but to turn to Him more and rely on Him only. I had spent my life in the pursuit of things – money, health, job, love. I guess I kinda just thought He would find a way to fit in there organically, LOL! But that's not how this works, as the lady in the commercial says. That's not how any of this works!
When God revealed to me the gospel truth that I have access to Him, it revolutionized my way of thinking. Once I realized all that He is doing for me, I asked the question: What must I do? What is my response to His goodness? Notice that I'm not trying to invoke His blessing. I already have it. But I want to be up under Him, under His wings, basking in the glow of His love, sitting at His feet and learning. I find that the more time I spend with Him the more time I WANT to spend in His presence.
And God is going to do more, even greater than He already has in my life. It's already begun. He's doing it right now, just in changing the way I think and pray. He's shifted my focus. I used to pray for Him to change my situation, now I look for Him to change me. I see that the more I grow, the more my situation changes. One day I considered this scripture: Beloved, I wish above all things that you may prosper and be in health, even as your soul prospers. (3 John 1:2)
Now, I took that to mean that as I grew spiritually, I would also prosper financially and physically. I visualize a set of scales, with one side representing your soul and the other ALL of the things you feel you need and want. As you add to the side that truly matters, feeding your spirit man, the other side would balance out accordingly. And that makes sense. I'm seeking a harmony of both in my life. So, all of these years that I have been chasing these things, they would have come to me, had I chased HIM. I've been putting the cart before the horse. I've been doing it all wrong.
As a matter of fact, the verse preceding the well-known, seek ye first scripture admonishes us to NOT worry about all of that – what to wear, what to drink, or where to live. God knows that we need that. That's basic. But if we go after Him, these things will come after us. So I've made up my mind to be done with the foolishness, this way that does not work, and pursue God only, trusting that he will bring the things that I not only need but also desire into my life.
Ah, but there's something else at work here. An element of SURRENDER. If I give it all to you, Lord, I'm trusting you with the outcome. And faith, too – cuz you gotta believe that He can DO IT! Oh, so many good things are coming from drawing closer to you and they're not only tangible. Grow me, Lord, like a flower. Increase me, Father, so I can do more of Your will. Decrease me, so that I can be filled with more of you. I don't want anything right now more than I want you. More of you, Lord, is my prayer.
Be blessed,
Loria